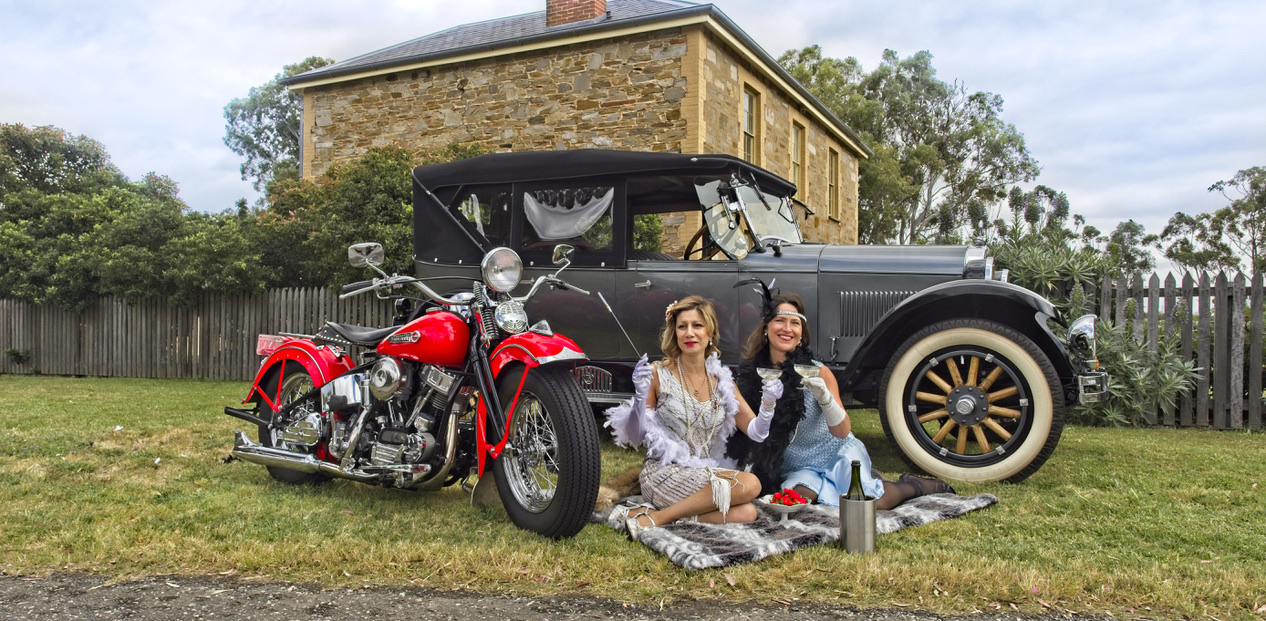 2022 McLaren Vale Vintage & Classic Main Street Parade/ Charity Dinner has been CANCELLED due to COVID MANAGEMENT PLAN restrictions.
The McLaren Vale Vintage & Classic is a GREAT FAMILY day celebration of vintage and classic motoring. A fantastic mix of food, wine, music and the arts together with the energy and passion of motoring enthusiasts.  The Event offers the visitor exquisite tastes of the McLaren Vale region's world-class wines, tantalising gourmet food and classic motor vehicles of a by-gone era.
The Main Street is closed off to mainstream traffic and the Parade begins. The road will be closed for about one hour for the public to line the streets to watch the cavalcade of vehicles pass by.
Extra special thanks must go to the committee of the McLaren Vale Vintage & Classic. COVID-19 restrictions meant their 2021 fundraising dinner had to be rescheduled and became a lunch, but was extremely successful. Thanks to our wonderful  sponsors, we raised one of our greatest ammounts of funds.We were able to donate $13,000 to the hospital. The funds will be used to repair the car park bitumen. We also donated $5000 to the Southern Koala Rescue for a new Rain Water Tank and base.Our two Local CFS units were donated $1000 each for ongoing equipment supplies.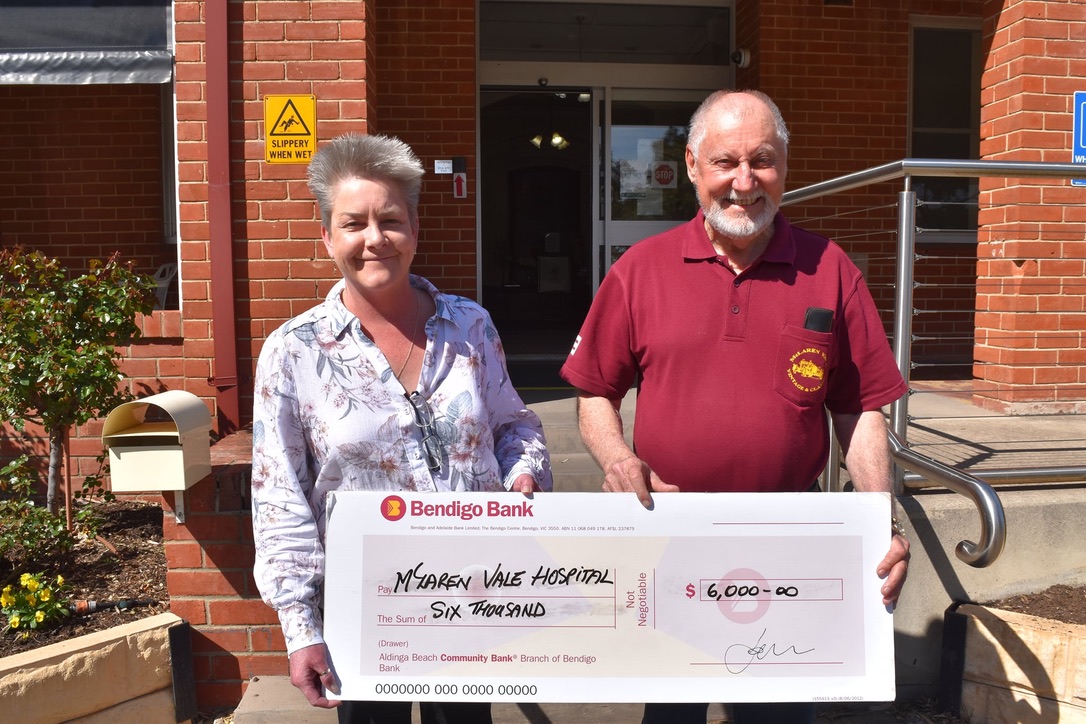 THE CHARITY DINNER HAS BEEN CANCELLED
The unique mix of activities has kept thousands of people coming back year after year, set in the relaxed atmosphere of McLaren Vale's wineries and cellar doors offering a combination of vintage and classic cars, food, wine and motoring enthusiasts in an outdoor setting  to make this weekend like no other. Our last event in 2021 was restricted to 500 vehicles and 15-20,000 people lining the Main Road for the Grand Parade.
The  event will again support the McLaren Vale & District War Memorial Hospital, the local CFS brigades of McLaren Vale and McLaren Flat and Southern Koala Rescue. 
THIS YEAR WE ARE AGAIN ENCOURAGING PARTICIPANTS TO DRESS IN THE ERA OF THEIR VEHICLES and we are going to award prizes for best dressed and various other combinations. So get out your glad rags and have a go, you could be chosen and win a prize. See details on the Best Dressed page of the website.
Entry Form............EVENT CANCELLED
All participants must complete and submit the official Entry Form for the McLaren Vale Vintage & Classic Car Event.
Please read all conditions carefully before submitting your form.
Note: The use of this form is considered to be an official entry. Entries MUST be paid in full once this form is submitted - within 5 days of receipt, or prior to the start of the show, whichever is first.
VENUES & CARS-- NOTE CARS AND FOOD HAS NOT BEEN SET FOR 2022
Please note- Due to Licensing Laws NO BYO ALCOHOL IS ALLOWED
SHOTTESBROOKE WINES
Nissan/Datsun Car Club
Contact:Ignazio Corsaro
0412109252
Adelaide Cruising Classics
Contact:Hugh Mortimer
Chrysler Car Clubs
Contact:Richard Peak
0418831283
National Cadillac Club of Australia SA Region Inc.
Contact: Honey Carlyle
0400890202
Riley, Bristol, Rover, Humber, and Studebaker Car Clubs
Packard and Buick Cars
Contact: Peter Whelan
0419600033
Food:
Food Trucks - WeinerBago & El-Diablo Wood Fired Pizzas
Music:
Live Music by the Sam Brittain Band Childrens activities will also be available.
PLEASE NO BYO FOOD OR DRINK
Peugeot, Renault & Citroen Car Clubs
Volvo & Saab Car Clubs
Contact: Anatoly Patrick
0401387789
Club Automobile Francaise
Scuderia Italian Car Club
Contact: Sandy & Bill Richards
0414781037 or 83774119
Italian Made Cars Club
Contact: Michael
0412361284
Fiat & Lancia Car Club
Contact: Terry Beaston
0427394686
Contact: Geoff Linton
0411238808
Food:
Caro Club Food Truck
Music:
Live music by Cal Williams Jnr Trio
PLEASE NO BYO FOOD OR DRINK
PAXTON WINES
Jaguar Drivers Club of S.A
Contact: Di Adamson
0407862758
Jaguar Owners Club of S.A
Triumph Stag Owners Club
Contact: Rod Warner
040358200
Triumph TR Register
Contact: David Stephens
0448115468
Triumph Sports Owners Club
Food:
By Chimichurri Grill and Whats the Scoop to spoil us with ice creams.
Music:
Live music by The Easy Club 4 piece band and vocals
PLEASE NO BYO FOOD OR DRINK
HARDYS TINTARA WINES
Martin Agius
83294114 or 0448966070
Mustangs on the Move
Contact: Chris Bunting
0411591385
Mustang Owners Club
Corvette Club of SA
Contact: Tony Beer Smith
0417851774
Chevrolet Car Club
Contact:TBA
Pontiac Car Club of SA
Food:
Food by 'No beard required BBQ' food truck. A man and wife BBQ comp team
Music:
live music by Groove Transfer- 60's and 70's with a few recent hits thrown in, also spectacular Alikat guitars display and sales
PLEASE NO BYO FOOD OR DRINK
FOX CREEK WINES
MG Car Club of S.A
Contact:John Davies
83238529 or 0413647728
Sprite Car Club of S.A
Contact:Ray Rollison
0432017080
Sporting Car Club of S.A.
Contact:Andy Morgan
0417907996
Austin7, Austin/Morris Car Clubs
Austin Healey Car Club of SA
Food:
Traditional Italian Street Food by Signor Arrosticini Lamb on skewers, Arancini Balls, Stuffed olives, fries and more. You can also purchase a gourmet regional platter from our Fox Creek Wine Bar. Delicia to You specialists in acai, espresso, protein and raw treats will make sure we have good coffe, tea and plant based food.
Music:
by Primal Groove will be playing rock to reggae, blues to roots, funk to pop and everything in between
Don't forget to bring your picnic rug or chairs and settle in for the afternoon. PLEASE NO BYO FOOD OR DRINK
HASTWELL & LIGHTFOOT WINES
Zephyr & Zodiac Car Club
Contact:Dave Henley
0407702012
Falcon Car Club of SA
Contact:Dale Tonkin
0438866632
Falcon GT Club
Contact:John Walters
0411510029
Ford Escort & Miscellaneous Fords
Model Fords
Food:
THE BUTCHERS PLATTER (CRAIG COOPER) https://www.facebook.com/butchersplatter/
SLUSHIE ROSE
SLUSH HAPPY https://www.slushhappy.com.au
Music:
Nic and Luke Duo

Please bring chairs and Picnic Rugs
PLEASE NO BYO FOOD OR DRINK
PENNYS HILL CELLAR DOOR
Tony Parkinson>
or 85570800
0408805518
Monaro Club of S.A
Contact: Allan Aspland
0409673151
Holden Cars
EH Holden Club
Contact: Kevin Ward
0418817458
Holden Southern Earlys Club
Contact: Tony Hitchin
0418818789
48 FJ Holden Club
Contact: Tony Hitchin
0418818789
SMASA (Street Machine Association of S.A.)
Misellaneous Trucks and Pick-ups
Miscellaneous Car Clubs
Wines, Award winning Penny's Hill and Black Chook wines by the glass, Gin-Flights Gin Bar- Mad Men & Vimy craft gins
Food:
Sooki La La Food truck South East Asian street food (Vegetarian, GF, Vegan and Child friendly. Zans Van pumping out Coffee. Ergo Pop Up Wood Oven Pizza
Music:
Live music ,Power Acoustic Duo- Chel-C & Quentin
Helicopter Flights- Helivista-scenic flights over vineyards and coastline. Vintage Bi Planes-landings,takeoff's and flyovers by Tiger Moth aircraft
p>
PLEASE NO BYO FOOD OR DRINK
MCLAREN VALE VISITOR CENTRE
Harley Davidson motorcycles, Scooters and various other makes.
All Makes Historic Car Club
Contact: Trevor Sharp
0415820719
Victor Harbor Historic Motor Vehicles
Contact: Gary Davies
0414964302
Bentley and Rolls Royce Car Clubs
Contact: Richard Dyson-Harvey
0488961133
Food:
Local coffee and homemade cakes from the cafe. Fish n Chips etc
Squid Ink will be serving wine by the glass or bottle
Music:
'Chesterfield' is bringing its full 11 piece big brass sounding ensemble to entertain you.
PLEASE NO BYO FOOD OR DRINK
HUGO WINES
Porsche Owners Car Club.
356 Porsche Clubs
Contact:Tom Klaveneik
0417821357
Volks Enthusiasts Club
Contact:Graham East
0438852189
VW Club of S.A
Mercedes Car Club of SA
BMW, Jensen,TVR Car Clubs
Food:
by the Oyster Bar Holdfast Shores – Fresh Oysters (natural & Kilpatrick),salt & pepper squid, fish & chips plus much more. Wines by the glass & bottle available. Wine tastings at the Cellar Door.
Music:
Live music by Two & a Half Men
PLEASE NO BYO FOOD or DRINK
SHINGLEBACK WINES
Vintage & Veteran Racing Motorcycles and specials
McLaren Sports Cars
Food:
Food by Plus Catering Pulled Pork Burger $15, Porto 'Shroom Burger (Veg) $14 GF avail, Thai Salt'n' pepper Squid $15, Dirty Dog $14, Hot Chips $6 (GF/Veg), Kids $10 popcorn chicken and chips, Sausage rolls and chips, Fruits on a stick (4) (GF/Veg)
Music:
live music by Russell Stuart & Jim Scott Duo
PLEASE NO BYO FOOD OR DRINK
Please note- Due to Licensing Laws NO BYO ALCOHOL IS ALLOWED
Contact Us
For general enquiries please contact:
John Buchanan Ph: 0400195593
For Sponsorship or Advertising contact:
Trevor Sharp Ph: 0415 820 719
Email: info@vintageandclassic.com.au
Alternatively you can send us a message using the form below:
SPONSORS
              NOTE: All Public Relations for this event by 'BPPR'; belinda@bppr.com.au 0402358000 
                                                         or  claudia@bppr.com.au  o401855042