Vintage and Classic Best Dressed
Best Dressed Car – Fiona and Michael Smitham, Car 402
Fiona's hair was set in curlers, dried under the old-fashioned hair dryer, teased and clipped back.  It does help that she is a hair-dresser, but I'm sure she was not born in that era!
Husband Michael has the classic polyester top that requires more than "Mum" deodorant to stay fresh all day, therefore travels with a spare set of clothes, which were hanging in the back seat.
Congratulations Fiona and Michael – you really stood out. There were a lot of other fantastic entries that made this difficult to judge, and we are very grateful for the calibre of quality dress ups and time spent on the outfits.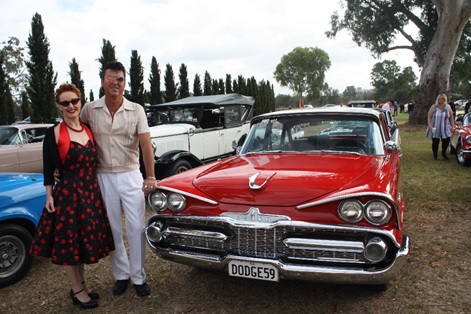 This car was very tempting for Julia, as the beach clothes, including boogie board were 'steering' her to think about her passion – the beach. Samantha soon straightened her thoughts for continuing to peruse the rest of the entries. Besides, there was no female swimsuit, indicating that Maslins may be his favourite beach. Graham Byass, (aka Mike Love of Beach Boys Faim) Samantha James & Julia Brown.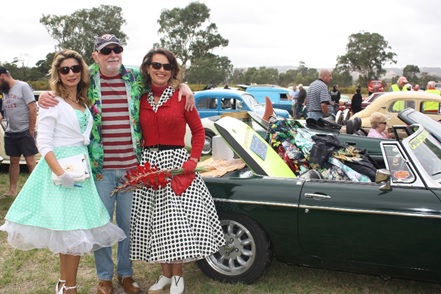 Thor Schjolden and partner were very     impressive, leading us to believe that we could be at the Goodwood Revival in UK.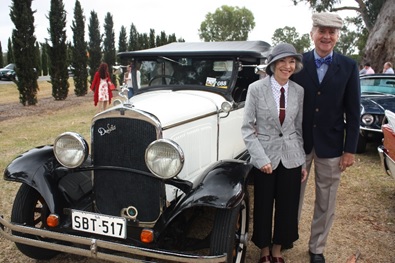 Lovely Linda in green was a stand-out. Along with the fella in the grey suit, which Sam felt may win Best Dressed Male.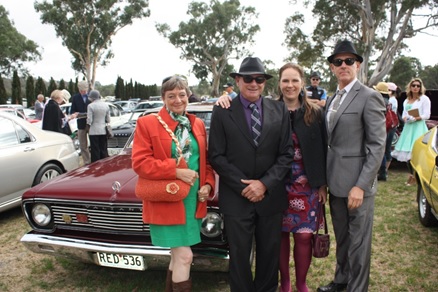 Maurice and Steph looked quite colourful With Arthur Rudiger (MGCC) looking on (rear)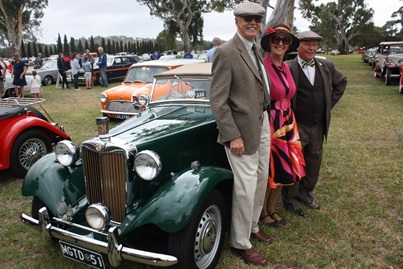 Mr Safari Suit was captive to the judges also. The hairstyle to match. Maybe next year?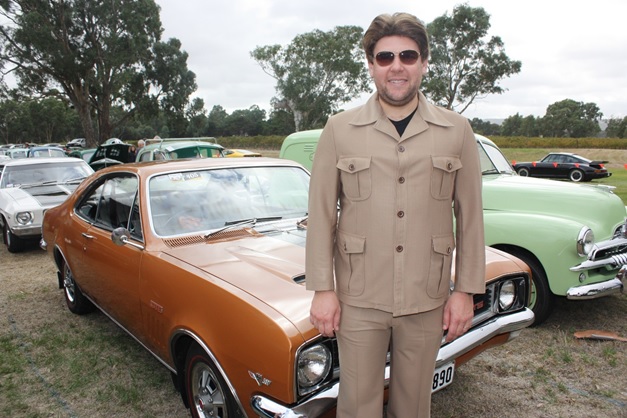 Best Dressed Female – Deborah West
The Queen would approve! This outfit is fit for anyone trying to impress.
Deborah West has a whole wardrobe full of these, and it still collecting. The last time I saw any hats like this was at Arno Bay Op Shop. I guess the country ladies love to hoard.  Well done Deborah, this beautiful blue dress is stunning. Matching Hat, Shoes and Handbag show you are all class.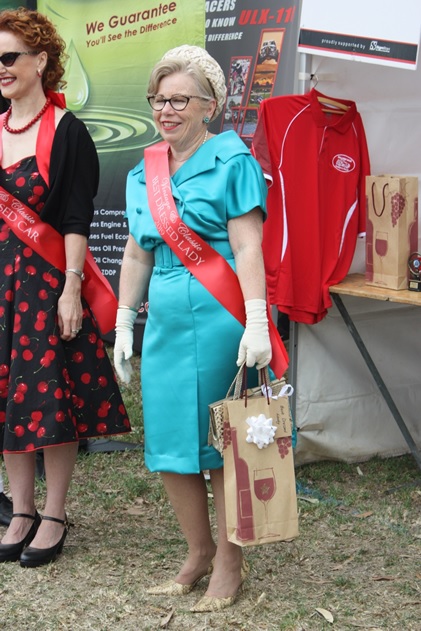 A couple of gorgeous ladies that stood out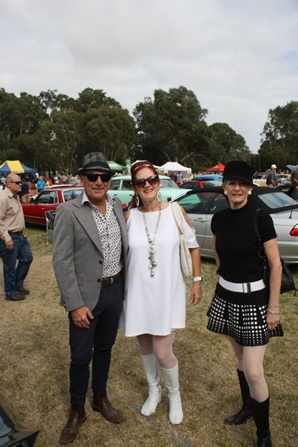 Best Dressed Male – Laurie Evans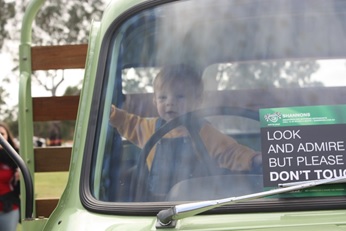 You can never start too young!
However, this young man didn't make the paddock, so we search very hard and decided on Laurie Evans, who had a hat of McLaren Vale Tartan and the badge on his hat represents the area as well.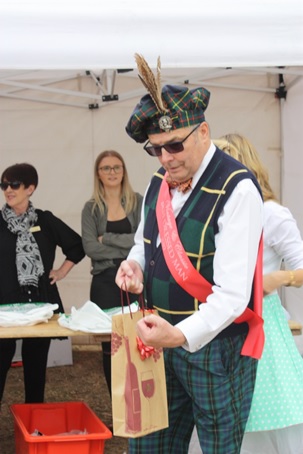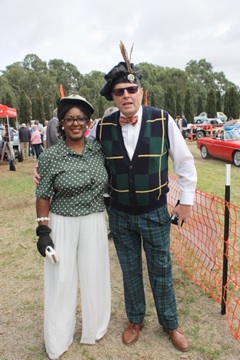 After presenting him, he confessed that he did hold a managerial role at McLarens on the Lake in the 90's, so was beholding for this prize. His partner matched him in green, so together they both stood out and came prepared for a great day out.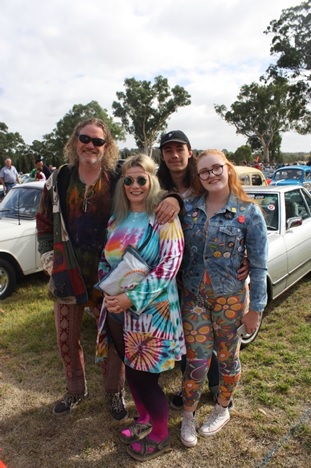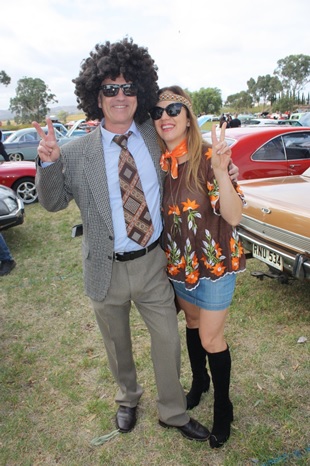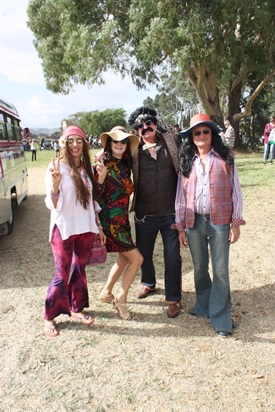 Perhaps we need a 'Woodstock' category next year!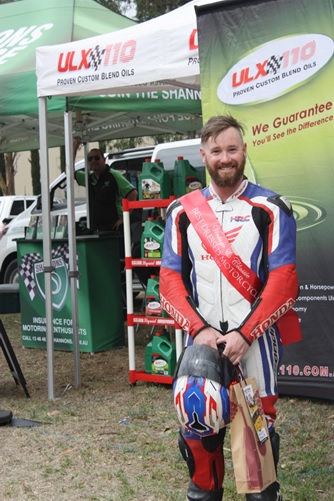 Best Dress Motorcycle – James Doddrell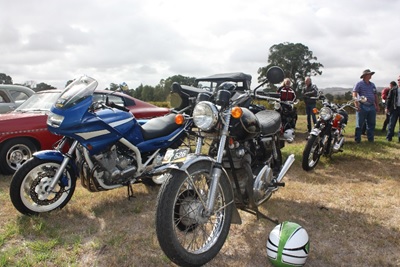 ere was a plethora of motorcycles from different eras. The collection of badges on some vests was impressive.  Even the crocodile vest with pointy leather bits got my attention. A latecomer to the field, who just scraped in on time proved that you can have a motorbike with matching motorbike suit, including helmet. WoJw – even the sash matches.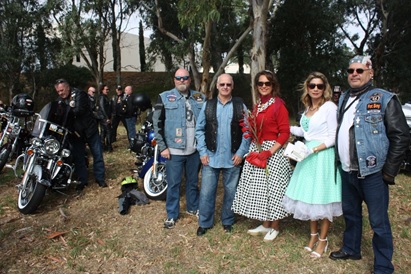 Best Dress Cellar Door – Paxtons Winery
Competition was fierce – we started with the lovely ladies at Pennys Hill Winery, who put on a display of colour and delight.  Adding to the ambience were the band in the paddock and the Tiger Moths on display, along with Erin Thompson – our Mayor from Onkaparinga Council. She took inspiration from the models on the poster!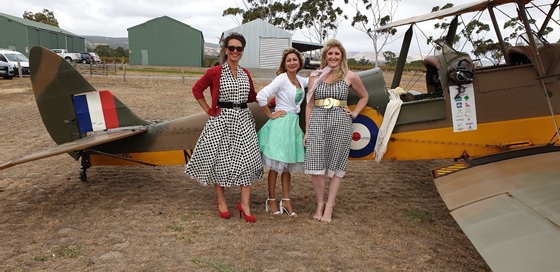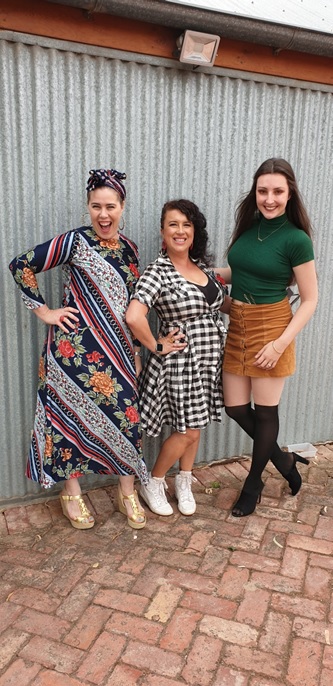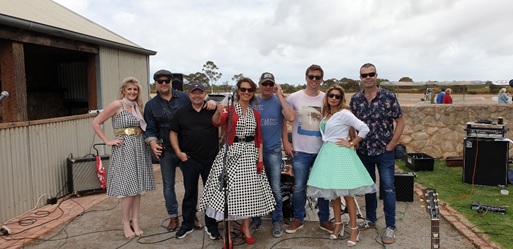 Then a visit to Fox Creek Winery, where the crew were in matching poker dot outfits. This was their busiest day ever, so its good to see the Vintage and Classic draw in a huge crowd.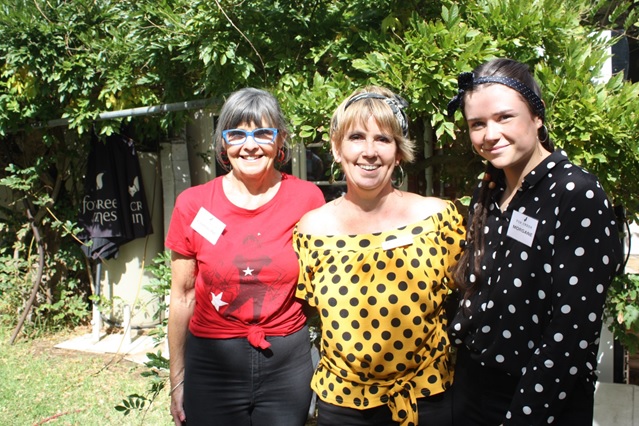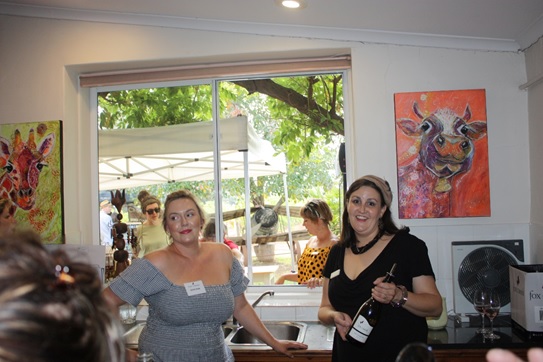 Paxtons Winery blew us away. Walking down the stone path in high heels by this time of day was slow, but worth the effort. We were greeted by a 1920's theme, not only on the crew but the cellar door had been transformed as well – with screens of tape and decorations of glitter and feathers to set you back into this scene. Mandy Walker, Jennifer May and Siubhan Wilcox – you look amazing!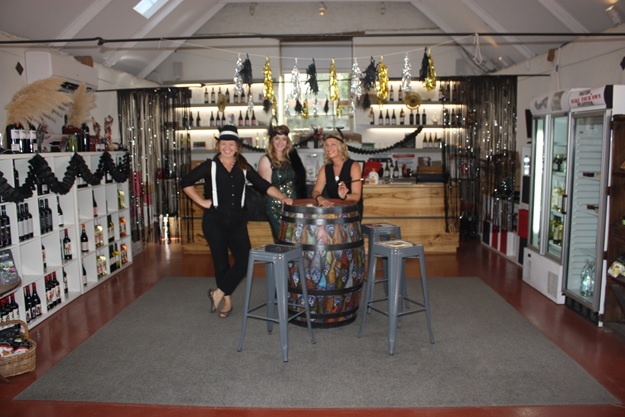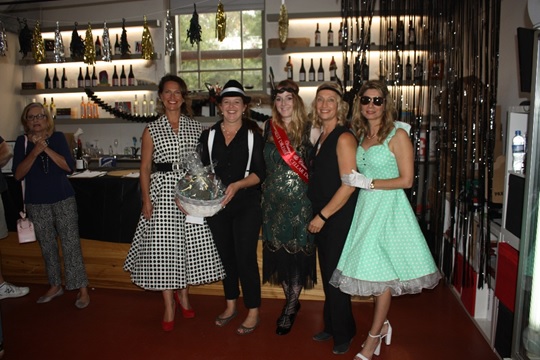 Even the band at Paxton's was 'committed', with their polished outfits, pumping out tunes to get the moves happening and toes tapping.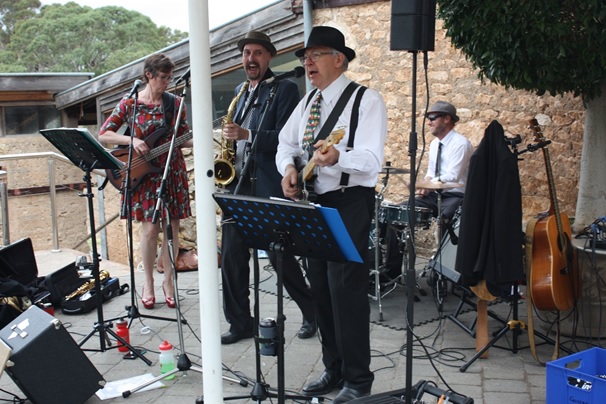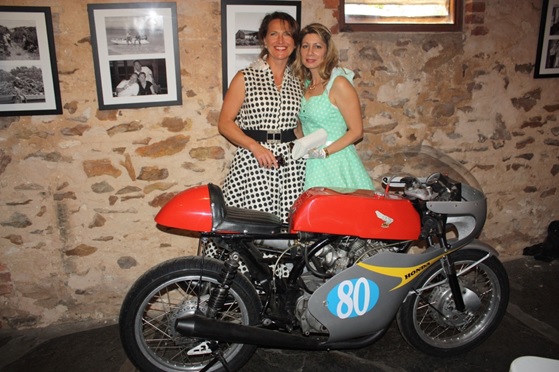 Shingleback Winery
Kym had a special Grand Prix Honda on display, as well as enthusiasts of all bikes. Great food by Chef Horst was a definite attraction. The atmosphere was chilled and the wine smooth as.
Best Dressed Spectator/s – Helen Rhae and Julie Venning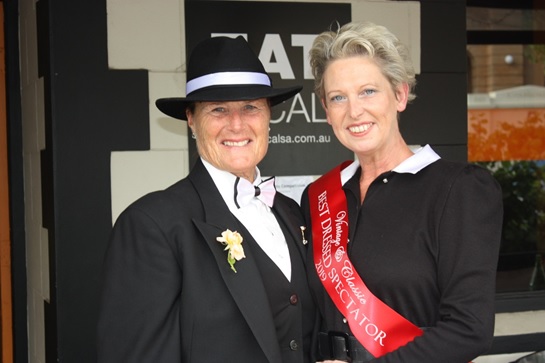 Best Dressed Child – Kayley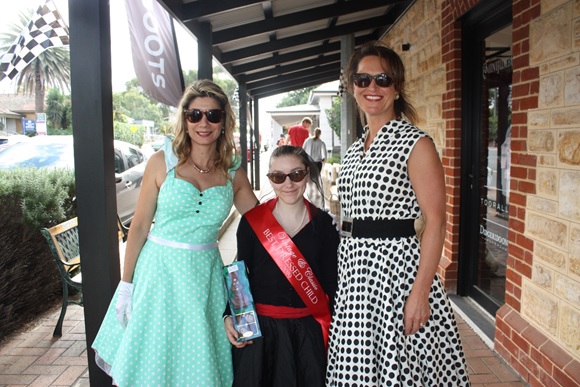 Best Dressed Shop – Gorgeous Soles
With 80 km signs in the window to represent an 80's theme, followed by fashion of the 80's by George Gross and Harry Who, and cars dangling, smashing, crashing and manoeuvring in all directions, this was a stand-out draw card.
If only this attracted the crowd on the day to purchase outfits, she would have been sold out! Unfortunately trade for anything other than cafés, restaurants and wineries was what the people desired. Question is – how can we get them in other shops next year?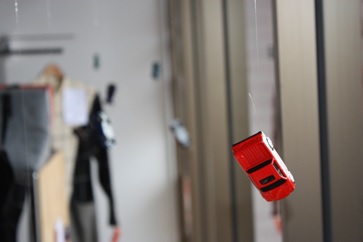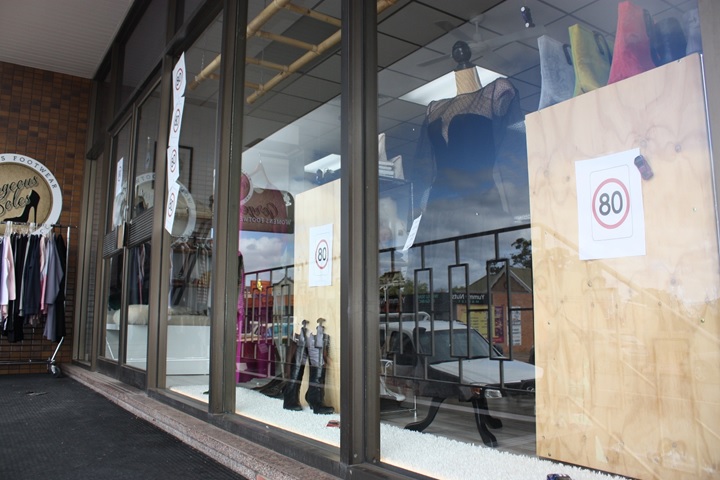 Ellis Butchers put in a good effort on Saturday, going 70's with gum boots.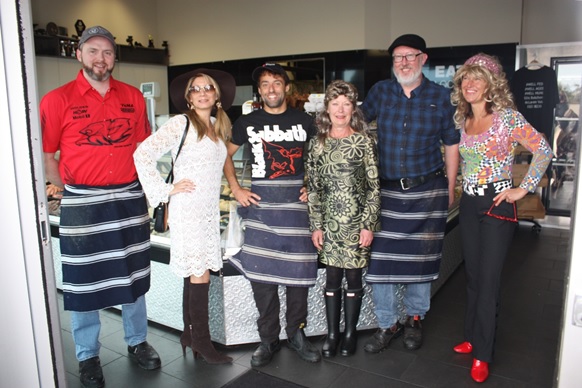 Indomex looked awesome in their 50's theme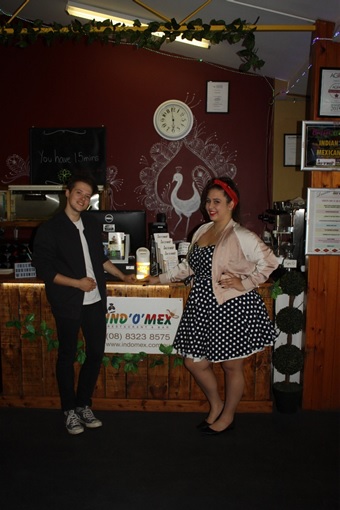 Oscars put in a great effort with their outfits and decorations of matching tables cloths. Love the shirt Paul.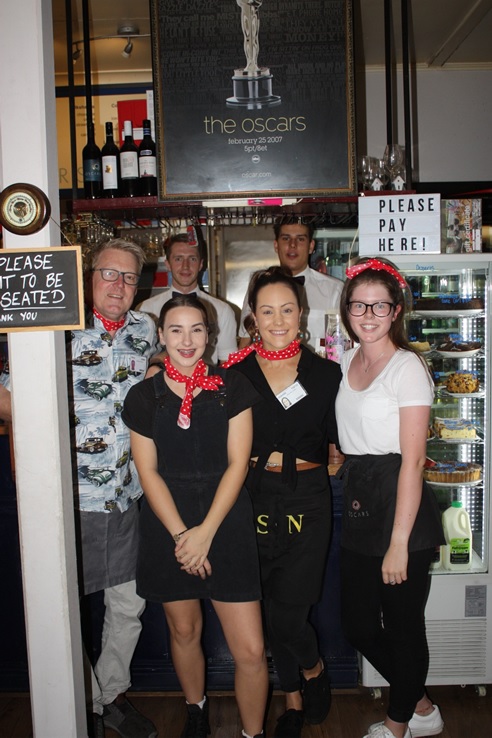 Bracegirdles looked bright in their matching aprons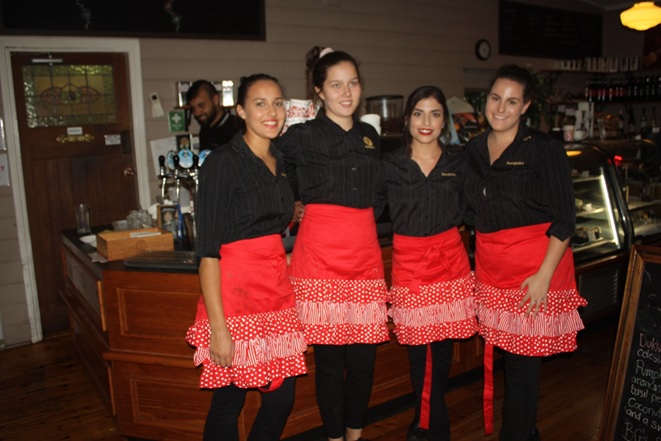 Blessed Cheese had the streamers outside and a stunning lady dressed up inside, who stole the show, so was given a special prize. Sam was loving the cars on display of the gelati fridge.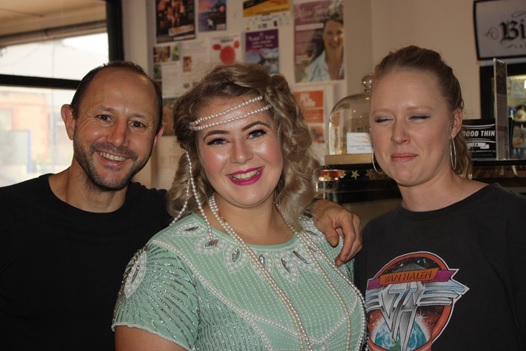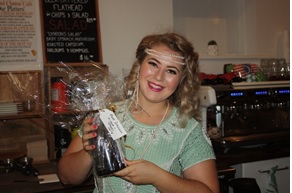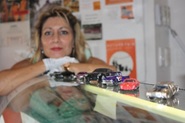 McLaren Unvaled has a good sense of humour – adding a bikie outside, along with great decorations inside. Annie always looks amazing, dressing up for any occasion.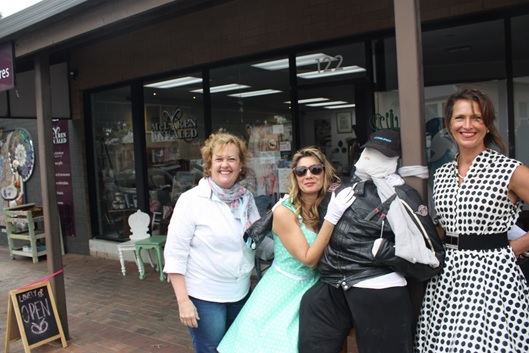 We found El Brown from Gorgeous Soles at the Salopian – earning a well deserved drink!